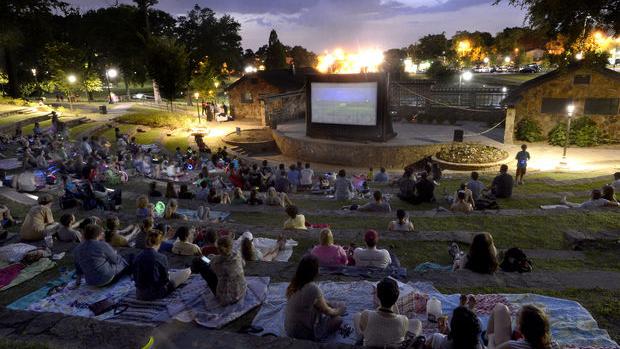 One extra-special marker of summer is the free outdoor event. You may think an overpriced, over-air conditioned movie theater is the ultimate summer escape, but you're wrong. Summer begins at Avondale Park.
Or, as REV Birmingham asked, "Who needs movie theater seating when you can watch classics under the stars?!" And even the best home theater system is a poor substitute for Hollywood magic on Miss Fancy's home turf.
Besides, there's something delightfully nostalgic about outdoor movies in Avondale. With quaint structures — gazebo, amphitheater, villa — full of charm but rarely built these days, Avondale Park is the outdoor version of the Alabama Theatre's movie palace. And it's good sometimes to revel in the things we've kept, in the bits of old Birmingham we wouldn't design now but are happy we preserved.
Beautiful old spaces still in use can feel like a conversation with the past, a reminder that the city predates you and will outlive you, and that that's a really wonderful thing. As crucial as people are for community, spaces matter too. And there's a magic in Avondale Park's historic grounds that you won't find elsewhere.
While newer developments have their charm, the park's South Avondale neighborhood feels like refreshingly like an older era. Located steps from the local library and the commercial center, Avondale Park is woven into the fabric of community life in a unique way. Even Railroad Park can't boast the same setup. We're starting to see South Avondale as a Stars Hollow within the city, and shared park movies are just more proof of it.
So plan your movie viewing with the schedule is below, all showtimes at 8:15 p.m. Additional information is available on the Facebook event page. While you're at it, check out this Birmingham Business Journal article on how the South Avondale/Forest Park small business community is driving this event.
See y'all at the movies!
MOVIE SCHEDULE
Toy Story – June 2nd
Wall-E June 9th
The Lorax – June 10th
Willy Wonka and the Chocolate Factory – June 23rd
The Muppet Movie – June 30th
Back to the Future – July 7th (at Crestwood Park)